Invited Talk by Jenea Adams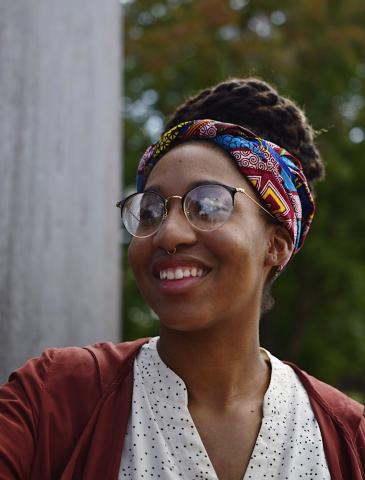 About

Jenea I. Adams holds a Bachelor's degree in Biology with a minor in Computer Science from the University of Dayton. She is currently a Ph.D. Student at the University of Pennsylvania in the Genomics and Computational Biology Program of the Perelman School of Medicine. She's a member of the Dr. Yi Xing Lab in the Children's Hospital of Philadelphia and she is intereseted in building bioinformatics tools relevant to advancing cancer genomics and immunotherapies. She is passionate about connecting computational biologists across a diverse array of fields and is the Founder of The Black Women in Computational Biology Network (blackwomencompbio.org)--a global, online networking platform that connects and amplifies Black women at all professional levels studying biology through a computational lens. 
Abstract 

"Creating a seat at the table" is a term often used throughout corporate culture to indicate a leadership position, or a position with opportunity to shape, influence and impact key decisions being made. This is a phrase that also carries a connotation of ownership of that "table" and represents a long exclusionary history of intracommunity politics and inaccessibility. This talk will explore the philosophy of the Black Women in Computational Biology Network as an unapologetic symbol of not fighting for a seat at a table that wasn't created for the success of underrepresented minorities; instead we challenge this belief and demonstrate what it means to create an entirely new table of inclusion and equity.
This community is comprised of womxn across all degree and professional levels from an array of backgrounds in biology, computer science, mathematics, bioengineering, chemistry, physics, medicine, public health data science, and much more refining their unique skillset to answer biological questions through a computational and quantitative lens. Beyond building a global community, concepts, practices, and challenges for creating a more equitable landscape  in the computational biology through The Network will be shared.